Fashion for tattooing has been around for years. Everyone has a different reason for inking images and inscriptions on their bodies. Some people associate life events with them, someone tries to change their life or protect themselves, others imitate their idols. Jessica Alba's fans use the celebrity's images as motifs for their own tattoos. Jessica Alba is a famous Hollywood actress, who has 4 tattoos on her body.
INSCRIPTION
There is an inscription "Padma" made in Sanskrit on the right wrist. It means lotus flower. In the East, lotus has a profound significance. The flower is tattooed more often. It acquires a different meaning depending on its color. In general, it is a symbol of well-being, beauty, smoothness, depth of soul.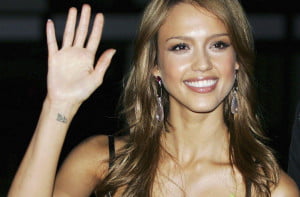 BOW ON TAILBONE
A small bow, made in black on the back, is often seen in photos. This symbol adds playfulness and hidden beauty. It is a cherry on the cake.
FLOWER PATTERN ON NECK
A daisy and ladybug in a single composition are tattooed in black and white on actress's neck. Her mother and grandmother have the same tattoos. This picture symbolizes passing of experience, the use of common knowledge, close family relationships.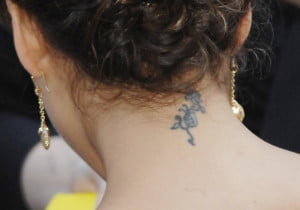 Latest Jessica Alba's tattoo was the inscription "NO!" on fingers of her right hand. The inscription is made in black and, in the opinion of many fans, is associated with detention facilities. Such a provocative tattoo speaks of protest, independence from someone else's opinion. Tattoo is easy to hide by massive rings, if desired.
Jessica Alba's tattoos are small and highlight her beauty and uniqueness.